300i drive
This is a high-end flux vector adjustable frequency drive suitable for stand-alone or coordinated drive installations. The flux vector control means the drive rivals the performance of DC drives with very high torque at 'zero' speed, and 'coordinated' refers to the drive's ability to work with other drives and PLCs via high-speed communication to control a complex manufacturing process.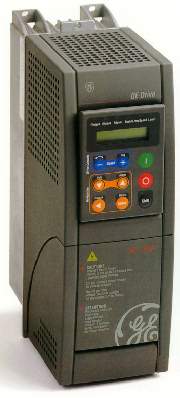 It is truly an exceptional drive, from the cool, sleek design to its very impressive performance. So far it's only available in 230V and 460V versions, but rumor has it that 575V is coming. The power output is ¾ to 200HP.
3 operating modes: open loop flux vector (sensorless), closed loop flux vector (digital tachometer input – 600PPR minimum) and scalar (V/Hz).
This is a sinusoidal PWM (pulse width modulated) drive
Operation can be done via the key pad (which is great, by the way – backlit, adjustable viewing angle, tactile keys, removable – even a virtual version for PC use), through digital inputs or bus communication. Remote operator stations are available (also with speed pot) and you can toggle between local and remote
Max frequency is 200Hz (400 Hz to 40HP)
There are 4 acceleration settings, from 0 to 65,535 sec (that's more than 18 hours! Oh, the patience of this drive…), linear or S-curve with independent ramp control
A breaking module is standard up to 20HP, optional and external for others
All necessary protection functions for the drive and the motor (with Thermistor input)
The drive can be programmed through the GE Control System Toolbox PC software
This is an open architecture drive that communicates in a number of different protocols such as Genius, Profibus DP, Interbus S, and Devicenet
An optional DGF (Digital General Function) card permits programming of customized control functions and execution blocks
Self-tuning, both speed (motor turning) and vector (motor stock still).
PID control
This drive is a great solution for complex stand-alone applications and also for coordinated use in paper converting and processing, plastics and rubber, textiles, printing and metals processing. For more information on the drive or on how we can incorporate it into a complete solution for your application, please give us a call .