---
APY / FAPY Longlife DC Tachometer
Longlife Technology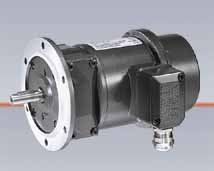 A Significant technology breakthrough has been made by Hubner in the area of Tach life. Embedded in the Tach Commutator is a solid silver track. This design, coupled with excellent sliding properties of pure graphite brushes, gives these Tachs an exceptionally long, maintenance free life. The Tach life is about the same as the life of permanently lubricated ball bearings. For this reason, these Tachs are designated, "Longlife".
APY / FAPY Tachometer
Longlife DC Tachometers in industrial NEMA 12 housings are available with flange or foot mount for direct replacement of "PY" or "BC" style tachometers. These tachometers are CSA / NRTL/C approved. 50 or 100 VDC / Krpm outputs are available with regulation of 1% or .1% for Precise speed control in all applications.
Type
No-Load Voltage

1,000 RPM

Max.

Load

Current

Max

Speed

RPM

Enclosure
Temperature

Range

APY 50

APY 100

FAPY 50

FAPY 100

50 V

100V

50V

100V

80mA

40mA

80mA

40mA

10,000

6,000

10,000

6,000

IP 55

-30 șC...+130 șC
Specifications
Volts / 1000 RPM
Mounting
Max. Speed RPM
Max. Speed For Reversing Duty RPM
Weight LB
Part No.
50VDC

100VDC

20VDC

50VDC

100VDC

Foot

Foot

Flange

Flange

Flange

9000

6000

9000

9000

6000

9000

6000

9000

9000

6000

5.5

5.5

5.5

5.5

5.5

FAPY-50

FAPY-100

APY-20

APY-50

APY-100
© Copyright Hubner Berlin
---