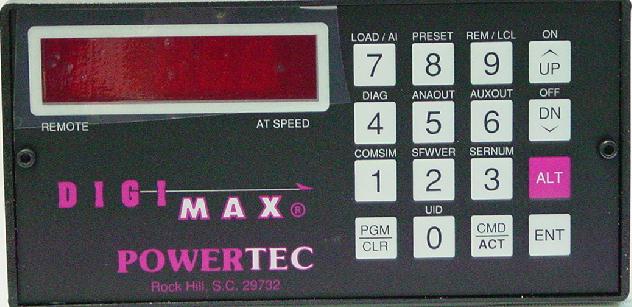 ---
The DIGIMAX ® is an advanced, micro-processor based, digital speed reference
designed for use with POWERTEC Brushless motors and controls. It is a reliable and
repeatable pulse train source with features designed for the needs of computer controlled
process lines. It may be used for master speed setting or as an extremely accurate ratio
setting device.

The DIGIMAX ® is an "open loop" type of control, i.e., speed feedback information
to this speed setting device is not necessary to maintain the speed regulation of the
system. The nature of the permanent magnet based Brushless motor and control system
is that it will maintain zero percent speed regulation from no load to full load over its entire
speed range. Closing the speed loop for speed regulation is unnecessary. Speeds
generated by the DIGIMAX ® are accurate within 50 parts per million under all specified
operating conditions. The Brushless motor will run at exactly the speed at which it is told
to run, and the next time that same speed is commanded, it will be repeated exactly.
The DIGIMAX ® is as much at home in the ratio mode as it is in the speed mode,
and it can switch between the two on the fly. This consistent speed control is invaluable
in setting up processes which vary from day to day, but must be duplicated from order
to order.

The DIGIMAX ® is also easy to apply and use. It can be installed in locations where
it is easily accessible to operators, which may be remote from the location of the motor
control. Control inputs and outputs are isolated, for flexibility and immunity to interactions
between units.

Speed or ratio set-points and operating parameters are entered via a 16-key keypad
on the face of the DIGIMAX ® . Speed or ratio set-points and parameters may also be
entered by remote connection to an industry standard RS-422 or RS-485 communications
link with a variety of protocols.
The five place digital readout may be set for motor RPM, process speed, or other
useful engineering units, from the motor or from another source besides the motor being
controlled. Indicators show when the speed is attained and whether the unit's control is
local or remote.

The DIGIMAX ® has six programmable output switches (open collector transistors),
offering the possibility of operation completely through the communications link.
There is a position registration function (temporary increase or decrease in speed)
which may be alternatively programmed as a motor operated potentiometer. There are
UP and DOWN controls are on the front panel, and there are remote inputs for these
functions as well. The MOP function may be programmed to stay at its former speed after
a stop, or to return to zero speed when stopped.

DIGIMAX ® represents a high level of sophistication for users of POWERTEC
Brushless motors and controls. It is very effective in operator controlled or computer
controlled systems when precision, repeatability, flexibility, and ease of interface to the
host unit are required.