Hi-Torq
Brushless Direct-Drive Servomotor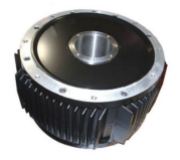 The Hi-Torq series of brushless servomotors pack a remarkable amount of torque into a low profile package, making them perfect for your direct-drive applications. These motors, when driven by the same FlexMax drives you use with the PacTorq and PowerTec series motors, provide a superior alternative to many conventional gearbox and belt solutions to your motion control applications.


---
Where do I use Hi-Torq?
Use Hi-Torq motors ...


... for gearless uses where zero backlash is required.
... on machines where very high torque is needed in a small space.
... where maintenance is a problem (built into machinery).
... when extremely smooth low speed torque is needed.
... where shaft mounting, low profile drive means is necessary.
---
Features & Benefits
Low overall weight compared to motor/gear combinations
Extremely high accuracy with drives capable of using the sinusoidal encoder
Completely enclosed feedback devices
Conventional servo connectorized power and feedback wiring
Low compliance bolted shaft-mount provisions
Input shaft can be keyed if desired
Hall effect commutation output built in, plus...


... sinusoidal encoder or optional resolver (E340 series)
... digital encoder or optional resolver (E430 series)
---
Characteristics
Basic E340 Frame Characteristics (TENV)
(E342TVY Data Shown)


Rated Stall Torque (Cont): 264 lb-ft
Continuous HP (rated at 220 rpm): 8.7 hp
Continuous Torque , rated speed: 207 lb-ft
Weight: 265 lbs
Rated Stall Current (Cont): 28.7 amps
Peak Torque accel rate: 15,280 rad/sec2
Rated Current, Continuous: 22.5 amps
Inertia: 5.65 lb-ft2
TEAO Option


Increases continuous torque output to 326 lb-ft (stall)
RMS continuous torque at rated speed increases to 307 lb-ft
Basic E430 Frame Characteristics (TENV)
(E432 Data Shown)


Rated Stall Torque (Cont): 368 lb-ft
Continuous HP (rated at 220 rpm): 15.4 hp
Continuous Torque , rated speed: 367 lb-ft
Weight: 350 lbs
Rated Stall Current (Cont): 39.6 amps
Peak Torque accel rate: 5150 rad/sec2
Rated Current, Continuous: 39.1 amps
Inertia: 24.0 lb-ft2
---
Applications
TEAO Option


Increases continuous torque output to 552 lb-ft (stall)
RMS continuous torque at rated speed increases to 550 lb-ft
TEWC Option


Increases continuous torque output to 700 lb-ft (stall)
RMS continuous torque at rated speed increases to 700 lb-ft
Just the thing for:


Direct Drive Rolls, just hang on the shaft
Rotary Knives/Flying Shears, no backlash
Direct Drive Extruders, no gearbox
Direct Drive servos, no gears or compliance
Metering pump drives, accurate low speed
High torque, low speed dynamometers
Wheel drives for blow molding machines
Joint-mounted drives for robots
Summary of Performance
by Frame Size
Parameter
Frame Size
E341
E342
E344
Continuous Stall Torque, TENV
145 lb-ft
264 lb-ft
475 lb-ft
Continuous Stall Torque, TEAO
179 lb-ft
326 lb-ft
587 lb-ft
Continuous Torque @ 220 rpm, TENV
114 lb-ft
207 lb-ft
373 lb-ft
Continuous Torque @ 220 rpm, TEAO
169 lb-ft
307 lb-ft
553 lb-ft
Continuous Rated HP, TENV
4.8 hp
8.7 hp
15.7 hp
Continuous Rated HP, TEAO
5.9 hp
10.7 hp
19.3 hp
Peak Torque, TENV and TEAO
1342 lb-ft
2685 lb-ft
5370 lb-ft
---
Parameter
Frame Size
ES342
E342
EL342
Continuous Stall Torque, TENV
145 lb-ft
264 lb-ft
475 lb-ft
Continuous Stall Torque, TEAO
179 lb-ft
326 lb-ft
587 lb-ft
Continuous Torque @ 220 rpm, TENV
114 lb-ft
207 lb-ft
373 lb-ft
Continuous Torque @ 220 rpm, TEAO
169 lb-ft
307 lb-ft
553 lb-ft
Continuous Rated HP, TENV
4.8 hp
8.7 hp
15.7 hp
Continuous Rated HP, TEAO
5.9 hp
10.7 hp
19.3 hp
Peak Torque, TENV and TEAO
1342 lb-ft
2685 lb-ft
5370 lb-ft
---
Hi-Torq Brushless DC Servomotor Datasheet
English Dimensions (click here for metric dimensions)
| | | | |
| --- | --- | --- | --- |
| Frame: E342TVY | Enclosure: TENV | Winding letter: A | Connection: 1Y |
Parameter
Notes
Symbol
Units
Value
Continuous stall torque
1
Tcs
lb.ft.
264.7
Peak torque, theoretical
Tpk
lb.ft.
2685.0
Rotor inertia
Jm
lb.ft.sec.2
0.1757
Theoretical acceleration
2
a
radians/sec.2
15280
Static friction torque
Tf
lb.ft.
2.62
Viscous damping coefficient
4
Kdv
lb.ft./krpm
46.60
Thermal resistance
Rth
°C/watt
0.092
Thermal time constant
tth
minutes
70.0
Motor constant
4
Km
lb.ft./watt1/2
10.68
Weight
W
lb.
265
Maximum safe speed
wmax
RPM
1000
Rotor poles
P
32
Winding data:
Insulation class
H
Stator phases
Ø
3
Voltage constant
3, 4
Kepeak
Vpkt-t/KRPM
1188.0
RMS voltage constant
4, 5
Kerms
Vrmst-t/KRPM
840.0
Torque constant
4, 6
Ktpeak
lb.ft./ampere pk
7.25
RMS torque constant
4, 6
Ktrms
lb.ft./ampere rms
10.25
Resistance
4, 5
Rtt
ohms
0.600
Inductance
5
Ltt
millihenries
11.949
Synchronous Inductance
5
Lttsync
millihenries
15.593
Electrical time constant
4, 5
te
milliseconds
19.9
Mechanical time constant
4
tm
milliseconds
1.14
Continuous stall current
1, 6
Ics
amperes rms
28.7
Current at peak torque
6, 7
Ipk
amperes rms
262.0
Rated base speed
8
wrated
RPM
220
Power at base speed
8
HP
8.67
Thermal sensor: normally closed pilot duty
Feedback specifications: halls plus 1200 ppr sinusoidal encoder
Notes:
(1) 40°C ambient temperature
(5) Terminal to terminal
(2) Angular accel at pk torque, motor only
(6) Based on RMS (sine wave) current
(3) Volts peak, terminal to terminal
(7) 140°C winding temperature
(4) 25°C ambient
(8) 320 VDC
---
Hi-Torq Brushless DC Servomotor Datasheet
Metric Dimensions (click here for English dimensions)
| | | | |
| --- | --- | --- | --- |
| Frame: E342TVY | Enclosure: TENV | Winding letter: A | Connection: 1Y |
Parameter
Notes
Symbol
Units
Value
Continuous stall torque
1
Tcs
Nm
358.9
Peak torque, theoretical
Tpk
Nm
3640.7
Rotor inertia
Jm
kg m2
0.2382
Theoretical acceleration
2
a
radians/sec.2
15280
Static friction torque
Tf
Nm
3.55
Viscous damping coefficient
4
Kdv
Nm/krpm
63.19
Thermal resistance
Rth
°C/watt
0.092
Thermal time constant
tth
minutes
70.0
Motor constant
4
Km
Nm/watt1/2
14.48
Weight
W
kg
120.45
Maximum safe speed
wmax
RPM
1000
Rotor poles
P
32
Winding data:
Insulation class
H
Stator phases
Ø
3
Voltage constant
3, 4
Kepeak
Vpkt-t/KRPM
1188.0
RMS voltage constant
4, 5
Kerms
Vrmst-t/KRPM
840.0
Torque constant
4, 6
Ktpeak
Nm/ampere pk
9.82
RMS torque constant
4, 6
Ktrms
Nm/ampere rms
13.90
Resistance
4, 5
Rtt
ohms
0.600
Inductance
5
Ltt
millihenries
11.949
Synchronous Inductance
5
Lttsync
millihenries
15.593
Electrical time constant
4, 5
te
milliseconds
19.9
Mechanical time constant
4
tm
milliseconds
1.14
Continuous stall current
1, 6
Ics
amperes rms
28.7
Current at peak torque
6, 7
Ipk
amperes rms
262.0
Rated base speed
8
wrated
RPM
220
Power at base speed
8
kW
6.5
Thermal sensor: normally closed pilot duty
Feedback specifications: halls plus 1200 ppr sinusoidal encoder
Notes:
(1) 40°C ambient temperature
(5) Terminal to terminal
(2) Angular accel at pk torque, motor only
(6) Based on RMS (sine wave) current
(3) Volts peak, terminal to terminal
(7) 140°C winding temperature
(4) 25°C ambient
(8) 320 VDC
---
Hi-Torq Brushless DC Servomotor Datasheet
English Dimensions (click here for metric dimensions)
| | | | |
| --- | --- | --- | --- |
| Frame: E432Y | Enclosure: TENV | Winding letter: A | Connection: 1Y |
Parameter
Notes
Symbol
Units
Value
Continuous stall torque
1
Tcs
lb.ft.
368.0
Peak torque, theoretical
Tpk
lb.ft.
3837
Rotor inertia
Jm
lb.ft.sec.2
0.745
Theoretical acceleration
2
a
radians/sec.2
5150
Static friction torque
Tf
lb.ft.
4.00
Viscous damping coefficient
4
Kdv
lb.ft./krpm
81.10
Thermal resistance
Rth
°C/watt
0.0787
Thermal time constant
tth
minutes
180.0
Motor constant
4
Km
lb.ft./watt1/2
16.69
Weight
W
lb.
350
Maximum safe speed
wmax
RPM
1000
Rotor poles
P
48
Winding data:
Insulation class
H
Stator phases
Ø
3
Voltage constant
3, 4
Kepeak
Vpkt-t/KRPM
1201.0
RMS voltage constant
4, 5
Kerms
Vrmst-t/KRPM
849.3
Torque constant
4, 6
Ktpeak
lb.ft./ampere pk
7.31
RMS torque constant
4, 6
Ktrms
lb.ft./ampere rms
10.33
Resistance
4, 5
Rtt
ohms
0.266
Inductance
5
Ltt
millihenries
2.603
Synchronous Inductance
5
Lttsync
millihenries
3.192
Electrical time constant
4, 5
te
milliseconds
9.8
Mechanical time constant
4
tm
milliseconds
2.00
Continuous stall current
1, 6
Ics
amperes rms
39.6
Current at peak torque
6, 7
Ipk
amperes rms
371.4
Rated base speed
8
wrated
RPM
220
Power at base speed
8
HP
15.4
Thermal sensor: normally closed pilot duty
Feedback specifications: geared encoder 1024 with commutation tracks
Notes:
(1) 40°C ambient temperature
(5) Terminal to terminal
(2) Angular accel at pk torque, motor only
(6) Based on RMS (sine wave) current
(3) Volts peak, terminal to terminal
(7) 140°C winding temperature
(4) 25°C ambient
(8) 320 VDC
---
Hi-Torq Brushless DC Servomotor Datasheet
Metric Dimensions (click here for inch dimensions)
| | | | |
| --- | --- | --- | --- |
| Frame: E432Y | Enclosure: TENV | Winding letter: A | Connection: 1Y |
Parameter
Notes
Symbol
Units
Value
Continuous stall torque
1
Tcs
Nm
499.0
Peak torque, theoretical
Tpk
Nm
5203
Rotor inertia
Jm
kg m2
1.010
Theoretical acceleration
2
a
radians/sec.2
5150
Static friction torque
Tf
Nm
5.42
Viscous damping coefficient
4
Kdv
Nm/krpm
110.0
Thermal resistance
Rth
°C/watt
0.0787
Thermal time constant
tth
minutes
180.0
Motor constant
4
Km
Nm/watt1/2
22.63
Weight
W
kg
158.8
Maximum safe speed
wmax
RPM
1000
Rotor poles
P
48
Winding data:
Insulation class
H
Stator phases
Ø
3
Voltage constant
3, 4
Kepeak
Vpkt-t/KRPM
1201.0
RMS voltage constant
4, 5
Kerms
Vrmst-t/KRPM
849.3
Torque constant
4, 6
Ktpeak
Nm/ampere pk
9.91
RMS torque constant
4, 6
Ktrms
Nm/ampere rms
14.01
Resistance
4, 5
Rtt
ohms
0.266
Inductance
5
Ltt
millihenries
2.603
Synchronous Inductance
5
Lttsync
millihenries
3.192
Electrical time constant
4, 5
te
milliseconds
9.8
Mechanical time constant
4
tm
milliseconds
2.00
Continuous stall current
1, 6
Ics
amperes rms
39.6
Current at peak torque
6, 7
Ipk
amperes rms
371.4
Rated base speed
8
wrated
RPM
220
Power at base speed
8
kW
11.5
Thermal sensor: normally closed pilot duty
Feedback specifications: geared encoder 1024 with commutation tracks
Notes:
(1) 40°C ambient temperature
(5) Terminal to terminal
(2) Angular accel at pk torque, motor only
(6) Based on RMS (sine wave) current
(3) Volts peak, terminal to terminal
(7) 140°C winding temperature
(4) 25°C ambient
(8) 320 VDC