1.0 hp – 450 hp (0.75 kW – 315 kW)
208 - 230 V | 460 V | 575 V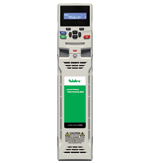 Control Techniques' HVAC Drive H300 variable frequency AC drive (VFD) is the result of extensive research and builds on our vast experience of the HVAC market. The HVAC Drive H300 dimensions are among the smallest in its class at every power rating. This saves valuable building real estate, makes the drives easy to handle, and maximizes mounting flexibility.
The HVAC Drive H300 has been designed to the meet the needs of:
Consultants and design engineers
Contractors
Fast, easy and secure installation, commissioning, and maintenance
Owners of commercial buildings
Achieves maximum building occupant comfort

Optimize energy saving and value with rapid return on investment
The offering includes UL508A approved, fan and pump controller bypass packages that are fully integrated with HVAC Drive H300 and are available in NEMA 1, NEMA 12, and NEMA 3R enclosures (consult factory for NEMA 4X solutions). For further information see the HMI Electronic Bypass page.
Control Techniques is with you at all stages of your project and provides you with the knowledge, support and confidence to deal with any project need.
Helping you rapidly source drives and components for your installation

Providing dedicated all hours HVAC/R drive technical support

HVAC/R drives training, available from widespread locations or even at your site
Features

A complete HVAC/R building automation solution

HVAC Drive H300 has all of the features you would expect from a dedicated HVAC AC drive, including:

Easy integration with Building Automation Systems with onboard BACnet, Metasys N2 and Modbus RTU communications

Flexibility without a Building Management System with optional co-processor for running custom application software

Fire mode for occupant safety which allows the drive to continue to run in the event of a fire for smoke extraction or pressurizing a room

Quiet operation with Rotor Flux Control modes, high switching frequencies (up to 16 kHz), and an intelligent 10 speed drive cooling fan with minimum noise operation

High product reliability with conformally coated PCBs as standard

Easy system installation and ongoing management with intuitive PC tools and useful VFD features

High energy efficiency, up to 98%

Dynamic Volts/Hertz energy optimization

Sleep, Wake, and VFD standby modes

Motor control of super high efficiency sensorless permanent magnet motors

Among the most compact VFD in its class at every frame size

Specifications

Performance

Normal Duty peak rating: 110 % (60 s)

Maximum output frequency: 550 Hz

Switching frequency range: 2, 3, 4, 6, 8, 12, 16 kHz (3 kHz default)

Sensorless permanent magnet motor control


Onboard communications


Parameter backup

Serial port cloning with complimentary Connect Software

SD memory card (using SD-SMARTCARD-ADAPTOR)

SMARTCARD reader support

PC tools

Onboard I/O

2 x Analog inputs, 2 x Analog outputs

3 x Digital inputs, 3 x Bidirectional digital inputs or outputs

2 x Relay outputs (Form C)


Machine safety / VFD enable


Power and motor control

Stationary autotune for sensorless permanent magnet motors

Wide operating Voltage range, capability to operate on a back-up DC supply

24 V control backup


Other

Temperature controlled 10 speed fan operation with user adjustable speed limit

User replaceable fan(s) for easy maintenance

PCB conformal coating

Sleep, Wake, and VFD Standby modes (energy saving)

VOLTAGE RATINGS
100 V (100 V - 120 V ± 10%)
200 V (200 V - 240 V ± 10%)

✓

400 V (380 V - 480 V ± 10%)

✓

575 V (500 V - 575 V ± 10%)

✓

Dimensions, weights and ratings

FRAME SIZE

DIMENSIONS (H x W x D)

WEIGHT

mm

in

kg

lb

3

382 x 83 x 200

15.0 x 3.3 x 7.9

4.5 max

9.9 max

4

391 x 124 x 200

15.4 x 4.9 x 7.9

6.5

14.3

5

391 x 143 x 200

15.4 x 5.6 x 7.9

7.4

16.3

6

391 x 210 x 227

15.4 x 8.3 x 8.9

14

30.9

7

557 x 270 x 280

21.9 x 10.6 x 11.0

28

61.7

8

804 x 310 x 290

31.6 x 12.2 x 11.4

52

114.6

9E

1069 x 310 x 290

42.1 x 12.2 x 11.4

46

101.4

10E

1069 x 310 x 290

42.1 x 12.2 x 11.4

46

101.4

11E

1242 x 310 x 312

55.5 x 12.2 x 12.3

63

138.9

Dimensions include mounting brackets