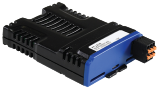 Setup complex servo motion control applications within minutes.
Get your servo application up and running within minutes with our next generation of Motion Made Easy® for Digitax HD and Unidrive M servo drives. The PTi210 enables Control Techniques' PowerTools Studio software interface.
Easy to Use - No specialized skills required to setup and execute motion - no coding!
Reliable and Economical - less labor and components to integrate motion
Flexible - one setup process for a wide range of motion applications
PTi210 is a cost effective way to provide simple, fast and effective motion control solutions with PowerTools Studio configuration software.
5 high speed digital I/O points (3 inputs & 2 outputs) in addition to the on-board drive I/O

1.5 axis synchronized encoder following with an optional encoder system integration module

Rapid integration for applications such as:
> Conveyor Synchronization
> Parts Alignment
> Rotary Knife
> Electronic Gearing
> Phase Synchronization
> Slip Compensation
> Feed to Sensor/Torque
> Point-To-Point Positioning
> Thermoforming

> Flying Cutoff
> Product Spacing
> Traverse Winding
> Labeling and Printing
> Random Infeed Control
> Web Control
> Multi-Lane Merge Control
> Registration Control
........and many more!
PowerTools Studio software
PowerTools Studio provides an unparalleled setup and commissioning experience suitable for all skill levels. Professional motion
control software engineers, infrequent users, or someone with no servo experience can equally use this interface to program drives.
Easily program the Digitax HD or Unidrive M using a Modbus RTU serial port or on-board Ethernet depending on your model.
Simple configuration and programming visual interface
> Fill-in-the-blank
> Point-and-Click
> Drop down menu selection
> Drag-and-Drop parameters and I/O assignments
Instant access to all parameters through the project tree view.
PowerTools Studio and the five steps to Motion Control
Drive Compatibility

The compatibility table below highlights which Control Techniques drives support this option module



Commander
C200
Commander
C300
Unidrive
M400
Unidrive
M600
Unidrive
M700
Digitax
HD
√
√