Advanced motor control
Digistart D3 provides industry leading motor control, featuring constant current, current ramp and adaptive control start methods. Adaptive control is an innovative control method that not only controls motor current but also acceleration. It allows the user to select between early, constant or late acceleration/deceleration depending upon the application requirements. Adaptive control then monitors motor performance by analyzing each start and adjusting accordingly to maintain optimum control.
Adaptive control can benefit many applications. A principle example is pumping where it can be used to eliminate water hammer by allowing the engineer to select the most appropriate deceleration profile for the system.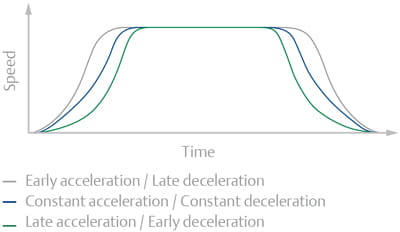 Compact and flexible installation
The compact Digistart D3 features an internal by-pass (on models up to 220 A), reducing space and costs through eliminating the need for external components. In addition, higher power units from 360 A allow the power connections to be configured on the top or bottom of the unit for both input and output, simplifying the cabling. Units can be mounted side-by-side to further reduce cabinet space.
Easy configuration and monitoring
The Digistart D3 keypad has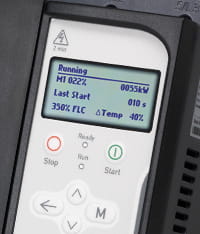 a multi-language graphical display, allowing you to easily set-up and monitor your soft starter. Start-up wizards guide the user through common application configurations and reduce commissioning time. The customizable display also provides real-time performance monitoring and time stamped event logs that can be used for maintenance and diagnostics, helping to improve plant availability.
Fire mode
Digistart D3 has an in-built fire mode. This is used in HVAC applications to help protect building occupants in the case of fire by pressurizing escape routes to maintain a smoke free environment. Activation of this feature disables the soft starter protection ensuring it continues to run for as long as possible.
Power through operation
Digistart D3's power through operation ensures the soft starter will continue to operate using 2 phases if one of the power devices is damaged. This allows you to keep your plant running whilst a long term fix is found.
Increased output
The Digistart D3 allows the motor to be connected either in-line (three wire) or using an inside delta configuration (six wire). Inside delta configuration increases the power of the soft starter, meaning a smaller unit can be used. This is a compact, cost efficient solution when replacing wye/delta starters where existing wiring can be used.
Options
Digistart D3 options include remote keypad, communication modules.
In addition an I/O card, RTD and Ground Fault card and Finger guards options are also available.
Keypad
D3-Keypad Mount: Remote Mounting kit for keypad
Finger Guard
D3-Finger Guard: Finger guard provide IP20/NEMA1 protection for larger models
I/O
D3-I/O: adds 2 x digital inputs, 3 x relay outputs, 1 x analog input and 1 x analog output
D3-RTD & GND fault: the RTD (resistive temperature device) and GND (ground fault protection) card provides additional 6 x PT100 RTD inputs and 1 x ground fault input.
Communications:
Digistart-Modbus: Modbus Interface module



Digistart-DeviceNet

DeviceNet Interface Module.
Drive interface units - Communications




Operator Interfaces and HMI

The powerful CTVue HMI (Human Machine Interface) line and integrated drivers for Control Techniques drives make it easy to integrate HMI with CT drives

Upgrade

To enjoy the benefits Control Techniques' latest range of solutions, see the upgrade information below to find the appropriate current product. Upgrading provides longer term reliability and performance enhancements.

The following table provides a summary of the recommended upgrade path:

SUPERSEDED PRODUCTS

CURRENT PRODUCTS

AS6

EMX3

EZ-Start

IMS2

Digistart D3

CSX

CSXi

Digistart D2

DY5

N/A