---
Powertec Genesis Series Brushless DC Drives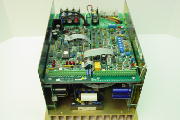 FEATURES MODEL 500-4000
• Two- or four-quadrant operation
• Input AC line fusing
• DC link choke
• Analog speed input, 0 to +10 VDC
• External frequency speed input, 0-14 kHz
• Fault output (open collector)
• Motor speed frequency output
• 0% speed regulation
• 100:1 constant torque speed range
---
ADDITIONAL FEATURES MODEL 1000-4000
• Bi-directional jog function
• Zero speed output (open collector)
• Run relay output
• Analog load output
---
PRODUCT DESCRIPTION
Pacific Scientifics' Genesis Series Brushless DC Drives are high performance, closed loop drives
designed for application flexibility. They are available as two quadrant, non-regenerative
or four quadrant, resistor regenerative drives. Both configurations are offered in open chassis mountable
enclosures. The Model 500 is also available in a NEMA 1 enclosure. The Genesis Series offers slip-less speed control and full torque over its Constant Torque Speed Range of 100:1. This servo-like
response makes it a good choice for applications requiring precise speed control and high torque at low speeds, with extremely high efficiency. The Genesis Series offers such capabilities as analog or digital speed control. It also has several field-installable options that allow simple configuration to your specific
applications.
---
TYPICAL APPLICATIONS
• Test stands
• Extruders
• Electronic line shafting
• Winders
• Pullers
• Wire drawing
• Printing
• Forest Industry machinery
• Tube and rolling mills
• Textile machinery
• Punch presses
• Paper converting
---
AVAILABLE OPTIONS
• Analog Interface Board
• Auxiliary Feedback Board
• Dancer Interface Board
• DC Relay Module
• Dual Ramp Accel/Decel Board
• Logic Extender Board
• Multiple Preset Speed Board
• Overspeed Board
• PID Board
• Power Supply Board
• Process Interface Board
• Signal Processor Board
• System Interface Board
• Threshold Detector Board
• Torque Controller Board
• BCDMax ฎBCD Speed Reference Input
• DigiMax ฎDigital Speed Reference Controller
• DigiTrak ฎDigital Speed and Load Display

List of all available Genesis Series DC Drives
*** For Manuals Please call or e-mail Microcon Technologies and specify the series your require.
---
Home / Contact Us / Products / Service / Sales /Supported Product / Powertec Support / Serviced Products / Feedback
---
Microcon Technologies Inc.
1105 Crestlawn Drive, Unit # D8 & D9
Mississauga, Ontario L4W 1A7 Canada
Tel: (905) 602-4770
Fax: (905) 602-4779
e-mail: sales@microcontechnologies.com
Website: www.microcontechnologies.com