---

MH Motor Series 16 lb-in to 748 lb-in
Servo Motors
460 Volts
The MH Motor is a low inertia motor that is ideally suited to the MDS operating with 460 VAC Input. Applications with torque requirements between 16 lb-in (1.8 Nm) and 748 lb-in (84.5 Nm) can be solved. MH motors use Neodymium magnets to achieve a high torque to inertia ratio giving them a size advantage when compared to competitors' motors. MH motors are available in English and Metric flanges, with or without brakes. The standard encoder resolution is 2048 lines per rev. All models are rated IP65.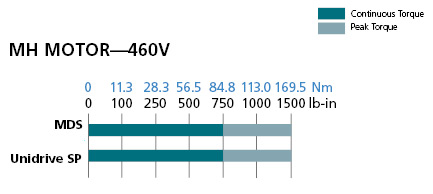 MG and MH Servo Motor order List
---
Home / Contact Us / Products / Service / Sales /Supported Product / Powertec Support / Serviced Products / Feedback
---
Microcon Technologies Inc.
1105 Crestlawn Drive, Unit # D8 & D9
Mississauga, Ontario L4W 1A7 Canada
Tel: (905) 602-4770
Fax: (905) 602-4779
e-mail: sales@microcontechnologies.com
Website: www.microcontechnologies.com