UM, SL and DM motors are for 400/440V nominal AC drive supply voltage and are the subject of this UM, SL and DM Unimotor manual.

EZ motors have identical mechanical construction and feedback options, but support a different winding to suit 220V nominal AC drives and are the subject of a separate EZ servo motor manual.
UM Motor
The UM motor has been primarily designed to operate with the Unidrive.
Feedback options include resolver; or incremental, sincos single-turn, sincos multi-turn optical encoders.

SL Motor
The SL version is a UM motor fitted with special

technology electronic feedback that operates with Control Techniques' M'Ax and MultiAx drives. This motor-drive combination offers extremely high resolution, for superb system speed control. High resolution is essential for many system applications where speed and position errors must be miniscule.
The feedback comprises of a special Sincos encoder and

electronics, both contained within the standard UM outline. The encoder has a memory programmed with all the essential motor characteristics necessary to automatically set all M'Ax parameters, giving an instant 'Plug and Play' capability.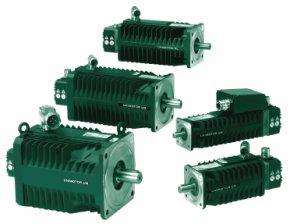 DM Motor
The DM motor is suitable for use with the DigitAx drive. The stator connections to U and V are interchanged to match the DigitAx.
Gearboxes - motor torque can be extended by a good selection of factory-fitted gearboxes, available to order in a wide variety of options.

Forced air-cooling - customer-fitted fan blown boxes specially designed to fit the range of motors, can directly enhance motor performance. (Not suitable for SL).

Custom specials - a range of special adaptations e.g. shaft or feedback type are already designed and may be available where quantities justify.

Cable assemblies - ready made power and signal cables in lengths of 2-100 meters to connect motors to the appropriate drive.